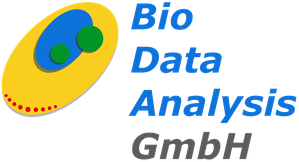 Mario Emmenlauer
Founder & CEO
BioDataAnalysis GmbH
Balanstr. 43
81669 München
Germany
phone: +49 (0) 89-74677203
email: memmenlauer@biodataanalysis.de
Company profile
BioDataAnalysis GmbH was founded in 2015 as a startup out of the research project TargetInfectX at University of Basel. The aim of our work is to create software for fully automated evaluation of large image-based bio-medical experiments, e.g. RNAi or CRISPR /Cas9 High Content Screens. In addition, we offer support and consulting in bioinformatics, image analysis, machine learning and data mining.
Product and Service Portfolio
Our core product CellAnalyzer is a software package for automatic analysis of microscopy-based screens. Thanks to the radical use of latest software technologies such as Deep Learning, it is possible to quantitatively evaluate complex image-based screens with minimal manual effort. Our database supports 2D and 3D assays from a variety of microscopes. BioDataAnalysis CellAnalyzer combines data mining and statistical analysis with an intuitive visualization, and is aimed at researchers, scientists and labs alike. The high efficiency of the software makes it possible to identify and categorize the phenotypic characteristics of individual cells even in data sets of several billion pictures. This allows a completely new, intuitive data mining over very large data sets. Using built-in off-target correction for RNAi experiments and gene network analysis, relevant hits can be more easily separated from false positive leads, to ultimately reduce high validation costs.
Furthermore, our team combines many years of experience in the analysis of microscopy image data. We would be pleased to support you with the quantitative detection of complex phenotypes in 2D, 3D and time series, in super resolution microscopy, and in all other tasks with respect to microscopy. Our agile team is fluent in all common programming languages and can work with all common image analysis toolsets and formats.